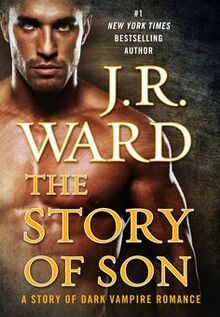 Available format: KINDLE E-BOOK READER
Publisher: St. Martin's Paperbacks (April 14, 2015)
Publication Date: April 14, 2015
Sold by: Macmillan
Language: English
BLURB
First released in the anthology Dead After Dark, dive into this hot novella from #1 New York Times bestselling author J.R. Ward. Available for the first time ever as a standalone ebook, get lost in the sinful pleasures of a vampire so obsessed with one woman, he will relinquish her blood, if only he can have her heart...
Held captive by a dark, seductive vampire with an unworldly hunger, the beautiful Claire Stroughton fears her life as a lawyer has irrevocably taken a turn for the worse. But when this deeply sensual-and highly dangerous-vampire convinces Claire that his desire for her is stronger than his lust for blood, she is compelled to give everything up to him, body and soul...
MAIN CHARACTERS
Michael (a.k.a. "Son")
Claire Stroughton
OTHER CHARACTERS
Fletch
Gabriel
Luke
Michael II
SYNOPSIS
Ad blocker interference detected!
Wikia is a free-to-use site that makes money from advertising. We have a modified experience for viewers using ad blockers

Wikia is not accessible if you've made further modifications. Remove the custom ad blocker rule(s) and the page will load as expected.