NOVELS
NORTH AMERICA release:

Published by: Signet
Language: English
ISBN #0451417062
Published date: 25 August, 2014

UK/BRITISH release:

Published by: Piatkus
Language: English
ISBN #0749959606
Published date: 26 August, 2014

GERMAN release:

Book 23 - "Nachtherz" (Part 1 of the story)
Published by: Heyne Verlag
Language: German
ASIN #B00KG6FF30
Published date: 10 November, 2014

GERMAN release:

Book 24 - " Königsblut" (Part 2 of the story)
Published by: Heyne Verlag
Language: German
ASIN #B00KHOD9BQ
Published date: 9 February, 2015

ITALIAN release: "Il Re è tornato - Il Re"

Published by: Rizzoli
Language: Italian
ASIN #
Published date: 29 October, 2014
AUDIO BOOKS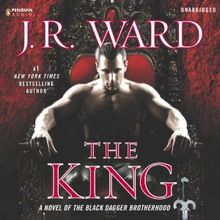 North America release:
UNABRIDGED
Original Published date: 1 April, 2014
Published by: Penguin Audio
Language: English
Narrator: Jim Frangione
Length: 22 hours, 4 minutes
ASIN: B00HX1BXR8
STORY BLURB
LONG LIVE THE KING!
After turning his back on the throne for centuries, Wrath, son of Wrath, finally assumed his father's mantle--with the help of his beloved mate. But the crown sets heavily on his head. As the war with the Lessening Society rages on, and the threat from the Band of Bastards truly hits home, he is forced to make choices that put everything--and everyone--at risk.
Beth Randall thought she knew what she was getting into when she mated the last pure blooded vampire on the planet: An easy ride was not it. But when she decides she wants a child, she's unprepared for Wrath's response--or the distance it creates between them.
The question is, will true love win out... or tortured legacy take over?
MAIN CHARACTERS
Wrath II
Elizabeth "Beth" Randall
OTHER CHARACTERS
BLACK DAGGER BROTHERHOOD MEMBERS
OTHERS - SPEAKING ROLES
MENTIONED OR NON-SPEAKING ROLES
SYNOPSIS
Ad blocker interference detected!
Wikia is a free-to-use site that makes money from advertising. We have a modified experience for viewers using ad blockers

Wikia is not accessible if you've made further modifications. Remove the custom ad blocker rule(s) and the page will load as expected.