NOVELS
NORTH AMERICAN release:

Original Published date: 5 April, 2016
Language: English
Published by: NAL
ISBN-10: 045147516X
ISBN-13: 978-0451475169

UK/BRITISH release:

Original Published date: 6 October, 2016
Language: English
Published by: Piatkus
ISBN-10: 0349409153
ISBN-13: 978-0349409153
AUDIO BOOKS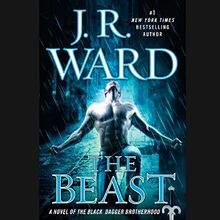 North America release:
UNABRIDGED
Original Published date: 5 April, 2016
Published by: Penguin Audio
Language: English
Narrator: Jim Frangione
Length: 13 hours
ASIN: B01AIQP6ZO
STORY BLURB
His name is Rhage—the deadliest fighter and most voracious lover of all the Brotherhood, whose inner beast could never be tamed. But Rhage found his eternal love in Mary Luce, a woman who once bore a life-threatening curse, while dreaming of eternity with her vampire warrior and protector.  
They've made it to hell and back. Now their story continues in a new novel sure to draw fans back into the "frighteningly addictive" (Publishers Weekly) world of the Black Dagger Brotherhood.
MAIN CHARACTERS
Rhage
Mary Madonna Luce
Bitty
OTHER CHARACTERS
BLACK DAGGER BROTHERHOOD MEMBERS
Brian "Butch" O'Neal (a.k.a. Dhestroyer)
Phury
Qhuinn
Tohrment (a.k.a. Tohr)
Vishous (a.k.a. V)
Wrath II
Zsadist (a.k.a. Z)
OTHERS - SPEAKING ROLES
Blaylock (a.k.a. Blay)
Ehlena
Jane Whitcomb (a.k.a. Doc Jane)
John Matthew (a.k.a. Tehrror)
Manuel Manello (a.k.a. Manny)
MENTIONED OR NON-SPEAKING ROLES
Evale (a.k.a. Fang I)
Evander (a.k.a. Fang II)
SYNOPSIS
CHAPTER ONE
Story opens in late-October with Rhage covertly scanning the abandoned and time-ravaged Brownswick School for Girls, and feeling antsy for action. Inside the dormitories and classrooms were a large group of Lessers, and the Brotherhood had tracked them to the location, thanks to Assail turning on his former associates and joining the Brotherhood's fight against them.
Rhage is really amped to fight, and he blames it on the current funk he and Mary, his shellan, have hit.
Vishous interrupts that thought by approaching Rhage and telling him he's had a vision of this night. He warns Rhage to go home before the fighting begins. Rhage isn't listening, though, too much in need of a good brawl to care of the outcome that Vishous has seen. In desperation, Vishous reveals that Rhage is going to die here on this field in the battle.
Rhage refuses to go, claiming that if he runs from the idea of death and the Fade, he'll never be able to go back into the field again to fight. Further, he warns Vishous that if he doesn't fight, the Beast will break free sometime later that day, probably when they're locked up in the mansion, because he's too juiced to have much control. He tells Vishous that he's not afraid to die, because The Scribe Virgin promised him Mary could go with him anytime she wanted. He takes solace in that fact.
Vishous is so angry, he tells Rhage that if he has a death wish, then fine. He refuses to waste anymore time trying to convince Rhage that his life means something to everyone else.
Rhage thinks about the last time he was with Mary, how beautiful he found her, and how that vision would stay with him always.
Ad blocker interference detected!
Wikia is a free-to-use site that makes money from advertising. We have a modified experience for viewers using ad blockers

Wikia is not accessible if you've made further modifications. Remove the custom ad blocker rule(s) and the page will load as expected.