NOVELS
NORTH AMERICAN release:

Published by: Signet Eclipse
Language: English
ISBN#0-0451235118
Published date: March, 2011

UK/BRITISH release:

Published by: Piatkus
Language: English
ISBN #0749955651
Published date: 3 November, 2011

GERMAN release:

Book 17 - "Vampirschwur" (Part 1 of the story)
Published by: Heyne Verlag
Language: German
ASIN #B006GI6KEK
Published date: 6 December, 2011

GERMAN release:

Book 18 - "Nachtseele" (Part 2 of the story)
Published by: Heyne Verlag
Language: German
ASIN #B007CU1BEA
Published date: 2, March, 2012

ITALIAN release: "Un amore irresistibile - Ferita"

First printing
Published by: Rizzoli
Language: Italian
ASIN #
Published date: 14 January, 2013

ITALIAN release: "Un amore irresistibile - Ferita"

Second printing
Published by: Rizzoli
Language: Italian
ASIN #
Published date: 23 April, 2015
AUDIO BOOKS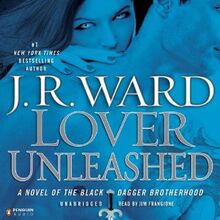 North America release:
UNABRIDGED
Original Published date: 29 March, 2011
Published by: Penguin Audio
Language: English
Narrator: Jim Frangione
Length: 18 hours, 37 minutes
ASIN: B004U8N8BG
STORY BLURB
Payne, twin sister of Vishous, is cut from the same dark, warrior cloth as her brother: A fighter by nature, and a maverick when it comes to the traditional role of Chosen females, there is no place for her on the Far Side… and no role for her on the front lines of the war, either.
When she suffers a paralyzing injury, human surgeon Dr. Manuel Manello is called in to treat her as only he can- and he soon gets sucked into her dangerous, secret world. Although he never before believed in things that go bump in the night- like vampires- he finds himself more than willing to be seduced by the powerful female who marks both his body and his soul.
As the two find so much more than an erotic connection, the human and vampire worlds collide … just as a centuries old score catches up with Payne and puts both her love and her life in deadly jeopardy.
MAIN CHARACTERS
Payne
Manuel "Manny" Manello
OTHER CHARACTERS
BLACK DAGGER BROTHERHOOD MEMBERS
Brian "Butch" O'Neal
Vishous
OTHERS - SPEAKING ROLES
Blaylock
Qhuinn
Saxton
The Scribe Virgin
MENTIONED OR NON-SPEAKING ROLES
GloryGloryHallelujah ("Glory")
== SYNOPSIS ==
Ad blocker interference detected!
Wikia is a free-to-use site that makes money from advertising. We have a modified experience for viewers using ad blockers

Wikia is not accessible if you've made further modifications. Remove the custom ad blocker rule(s) and the page will load as expected.