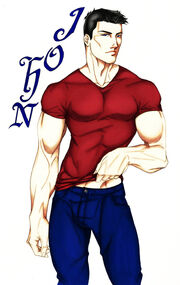 John Matthew (a.k.a. Tehrror), believed to be the son of Darius, is actually the reincarnation of Darius. The other Vampires believe him to be the half-brother to Beth Randall, and as a result, he is considered the brother-in-law to King Wrath II. He is mated to Xhex.
Romance with Xhex
Write the first section of your page here.
Foreign Translations
John Matthew's name in other languages:
Ad blocker interference detected!
Wikia is a free-to-use site that makes money from advertising. We have a modified experience for viewers using ad blockers

Wikia is not accessible if you've made further modifications. Remove the custom ad blocker rule(s) and the page will load as expected.