NOVELS
NORTH AMERICAN release:

Published by: Ballantine Books
Language: English
ISBN - Hardcover version -

ISBN-10 045147533X
ISBN-13 978-0451475336

ISBN - Softcover version:

ISBN-10: 0425286568
ISBN-13: 978-0425286562

Published date:

Hardcover - 6 December, 2016
Softcover - 23 May, 2017

Initial Cost:

Hardcover: $28.00
Paperback: $12.99
Kindle: $11.99

UK/BRITISH release:

Published by: Piatkus
Language: English
ISBN #0349409285
Published date: 6 December, 2016
528 Pages
Initial Cost:

Hardcover: £15.00
Paperback: £8.99
Kindle: £9.99
AUDIO BOOKS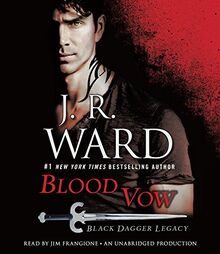 NORTH AMERICAN release:
Published by: Random House Audio
Language: English
ISBN-10 1524756393
ISBN-13: 978-1524756390
Published date: 6 December, 2016
Unabridged version
STORY BLURB
When a brooding vampire warrior-in-training teams up with a quick-witted aristocrat to solve a deadly mystery, the only thing more dangerous than their mission is their undeniable attraction.
Trainees at the Black Dagger Brotherhood's training center continue to prepare for the war against the Lessening Society, but fighting is the last thing on Axe's mind. Still plagued with the guilt of his father's death, the brooding loner finds himself battling an unlikely attraction to Peyton's enticing, aristocratic cousin, Elise. Elise feels it, too – especially when the two are thrown together in unusual circumstances, and she must decide whether she can trust Axe as she uncovers the mystery surrounding her sister's death.
Meanwhile, Mary and Rhage are fostering Bitty, a young pretrans orphan, and hope to adopt her… until the appearance of a young male claiming to be Bitty's blooded uncle threatens to tear the new family apart.
MAIN CHARACTERS
Axewell
Elise
Rhage
Mary Madonna Luce
Bitty
OTHER CHARACTERS
BLACK DAGGER BROTHERHOOD MEMBERS
OTHERS - SPEAKING ROLES
MENTIONED OR NON-SPEAKING ROLES
Ad blocker interference detected!
Wikia is a free-to-use site that makes money from advertising. We have a modified experience for viewers using ad blockers

Wikia is not accessible if you've made further modifications. Remove the custom ad blocker rule(s) and the page will load as expected.